Cascades Park District
The Cascades Park District is the centerpiece of a world-class, dual-purpose downtown 24 acre park extending from Pensacola Street on the north to Monroe Street on the southwest. It has been a colorful part of Tallahassee's history since 1821 when Governor William Duval chose a beautiful waterfall (now Cascades Park) as place for Florida's capital. Families enjoyed the park for more than half a century before coal-tar contamination closed the historic site. After years of neglect, Blueprint 2000 resumed efforts to remediate the site.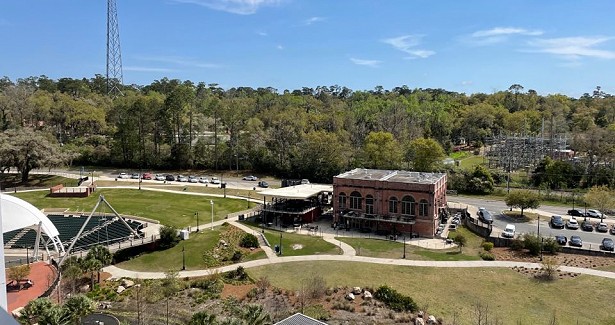 History of Cascades Park
The newly renovated park features 2.3 miles of biking and walking trails, an outdoor amphitheater and beautifully landscaped green space and ponds. In addition, an interactive fountain choreographed to colored lights and sound is a focal point. A fence featuring interpretive historical panels outline Tallahassee's past, while numerous amenities commemorate specific local places and events.

Downtown Tallahassee
AC Hotel
Check-in and enjoy Tallahassee as never before at the brand-new AC Hotel Tallahassee Universities at the Capitol. Designers have carefully crafted every detail for an amazing stay at Tallahassee's newest entertainment district. Inside Cascades Park and minutes from Doak Campbell Stadium, FSU, the Florida Supreme Court, and the Tallahassee Airport, you'll find the signature well-appointed guest rooms and suites, free Wi-Fi, smart TVs, sleek furniture, premium bedding, a modern work desk, plenty of natural light, and picturesque views so you can be more productive, creative, and fulfilled.
You are steps from the sophisticated AC Lounge® and AC Kitchen featuring European-inspired beverage and food offerings as well as Charlie Park Rooftop Dining, which serves up amazing views to accompany handcrafted cocktails and locally sourced small plate American fusion cuisine. Add in 5,500 square feet of meeting space and fitness center, and we've thought of absolutely everything you need for an effortless stay in Tallahassee.
Visit the AC Hotel